The seventeenth century was a time of massive religious upheaval in England. In 1642 came civil war between king and parliament. Between 1600 and the start of the civil war in 1642, the population of Lancashire rose from 100 000 to 150 000. James I, who succeeded Elizabeth in 1603, believed in his divine right to rule and forced everyone to attend Church of England services. The 'new' church had retained its bishops, ceremony and vestments of Catholicism and a growing number wanted a simpler 'purer' form of worship. These puritans wanted to rid the church of England from its Catholic tendencies, believing hard work was the route to heaven devoting Sundays and Holy days strictly to God. The harsh moorland environment of Anglezarke would certainly have required extra toil, being almost totally dependent on the season's weather, no doubt reinforcing the puritans ideas.
Lancashire on the verge of civil war was the county most sharply divided by religion than any other in England. It had the highest proportion of Catholics , particularly in the hundred of Leyland. Puritanism had gained immense support, particularly in the hundreds of Salford and Blackburn. It also had its fair share of religious indifferents, pagans and those with a tendency to believe in witchcraft.
Anglezarke had a unique position of being a township at the farthest northwest corner of puritan Salford bordering both puritan Blackburn and Catholic leaning Leyland hundreds, being part of the parish of Bolton with the closest market towns of Bolton and Chorley. The cloth trade had brought lively commerce to the area around Bolton, which had risen to a centre of trade, rife with non-conformists and a hotbed of puritanism. Chorley was known for a number of families who stayed true to the 'old faith' of Catholicism.
In 1642, by order of the House of Commons, all adult men, over the age of eighteen, were asked to swear an oath of allegiance to the Protestant religion.
I, "NAME" do, in the presence of Almighty God, promise, vow, and protest to maintain, and defend as far as lawfully I may, with my Life, Power and Estate, the true Reformed Protestant religion, expressed in the Doctrine of the Church of England, against all Popery and Popish Innovations, within this Realm, contrary to the same Doctrine, and according to the duty of my Allegiance, to His Majesties Royal Person, Honour and Estate, as also the Power and Privileges of Parliament, the lawful Rights and Liberties of the Subjects, and any person that maketh this Protestation, in whatsoever he shall do in the lawful Pursuance of the same: and to my power, and as far as lawfully I may, I will oppose and by all good Ways and Means endeavour to bring to condign Punishment all such as shall, either by Force, Practice, Councels, Plots, Conspiracies, or otherwise, doe any thing to the contrary of any thing in this present Protestation contained: and further, that I shall, in all just and honourable ways, endeavour to preserve the Union and Peace betwixt the Three Kingdoms of England, Scotland and Ireland: and neither for Hope, Fear, nor other Respect, shell relinquish this Promise, Vow and Protestation.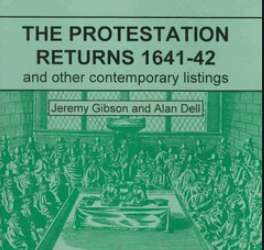 Refusal of the oath suggested adherence to the 'old' Catholic religion and deemed a man unfit to hold office either in state or church matters. The names of those who agreed to the were listed on a return to Parliament. In the Anglezarke township, this historically has been referred to as twenty two men, with no refusals.
So what can we learn from this list. Below is my transcription of the list of with modern spellings,
Robert Shawe, Gentleman
Thurstan Taylor, Husbandman
James Taylor, Husbandman
Robert Taylor, Husbandsmen.
Roger Anderton, Husbandman.
John Anderton & Peter Anderton, his Sons
Thomas Clayton, Husbandman
Adam Scolcroft, Tailor.
Richard Abbott, Husbandman
Thomas Edwards, Husbandman.
John Croston, Husbandman.
Peter Hampson, Miller
Richard Waddington, Husbandman
George Waddington, Husbandsmen
George Shawe, Yeoman
John Towneley, Labourer
Thomas Broadhurst, Husbandman
James Bullough, Husbandman
Peter Husborne, his Servant
George Brindle, husbandman
Robert Bullough
Interestingly, the entry for Robert Bullough is written in different handwriting to the rest, and gives no rank or profession. Below are the names of 'officials' for the parish, which follow the entry.
Robert Dewhurst – clerk
Richard Kershaw – guardian
Roger Brown – constable
John Bullough constable
Richard Kershaw – churchwarden
Of these I believe at least Richard Kershaw and John Bullough should also be included in the list above bringing the names to twenty four.
Whilst no women or children are named, this brief insight into the population gives us several point of note:
Everyone signed the protestation – no-one was, or admitted to, being Catholic
Robert Shawe was the only gentleman. As a gentleman, he would have significant wealth and own his property (he lived at High Bullough).
George Shawe was the only yeoman; he too would be a freeholder (he was living at Stones House)
There was a miller, and a tailor (Adam Scolcroft at Lester Mill)
By far the largest trade represented was husbandsman, what we would now think of as tenant farmers. There were thirteen husbandsmen (plus two adult sons) recorded. Richard Kershaw's family lived at Elmshaw, and the Kershaws were also husbandsmen; taking the total to fourteen.
There were only two servants/labourers, so most of the work was clearly done by the family
There are no occupations given for Robert or John Bullough, but the Bullough's had long farmed the land in the south west of the township.
Many of the family surnames had already been recorded in local deeds for at least three centuries such as Broadhurst, Bullough, Shaw, Anderton; and many others like Taylor, Clayton, Abbott, Brindle, Kershaw would be recorded for centuries to come.
Even the Christian names have passed through generations, Robert, John and Richard being the most popular locally, Peter, Thomas, George, James, Roger, Adam and Thurstan